Collective Action in the Time of Social Distancing
Acting together while standing six feet apart
If you're not signed up for this newsletter, then welcome! I'm glad you found your way here! But like sign up, will ya? There's a cute little button for you to do so.
And if you like this writing, consider donating to my Patreon. Any size pledge helps!
---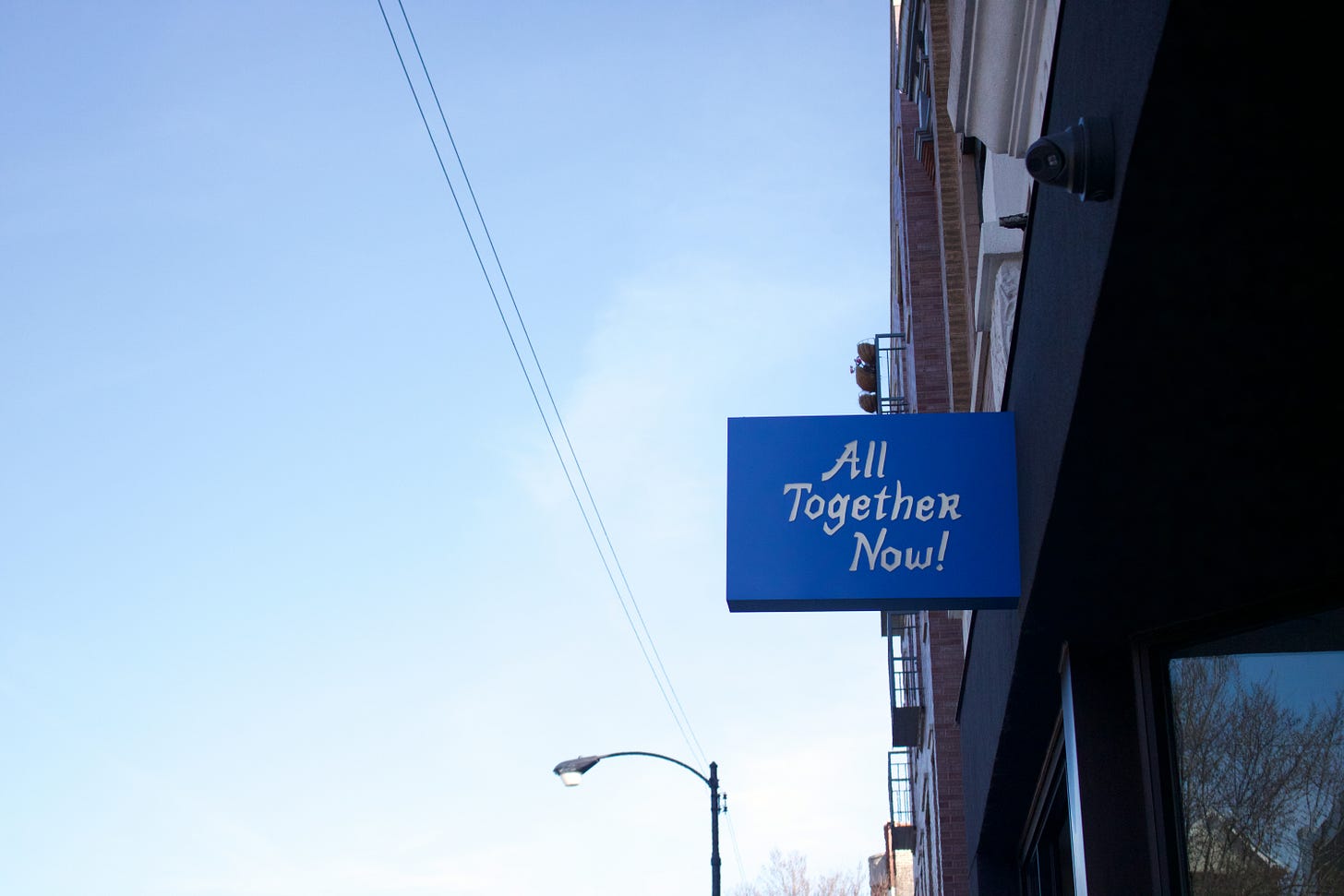 Collective action is more important than ever.
To say that this week has been wild is an understatement. There have been victories to celebrate, like Tartine workers winning their union vote. Despite the fact that owners of the bakery made anti-union merch, the Tartine union win was an amazing victory for the power of collective action.
As I type this, Illinois, Ohio, California have announced sweeping measures to shut down restaurants, bars, and coffee shops. In the next few days, this will likely happen in other states, which leaves a huge question on the table: what will happen to service workers?
There are hundreds of jobs that can't be done remotely or depend on patronage—they depend on folks physically coming into a space to receive a product or service. However, with the uncertainty that a yet-to-be-fully-realized pandemic poses, we have to start considering creative ways to band together to keep our industry alive.
Collective action is more important than ever.
Restaurants, bars, and coffee shops are going to close. We already know this. So what can we do to support workers and businesses? Here are a few suggestions:
Become a to-go space: A few coffee shops and restaurants have done this already. While this won't solve for all slowing sales, it does mitigate some of the concerns involving folks being close together and spreading the virus while still being open and operational. I've seen shops across the nation operate like you might a drive-thru—customers can call in orders ahead of time, they can come up to a to-go window, and they can get almost everything they would if your space was operating on all cylinders.
If you have access to goods, some places are selling provisions—like eggs, bread, and milk from their purveyors. Middle Brow Beer in Chicago is expanding its menu and bagging groceries from its vendors and offering a number of options for pickup and delivery. My neighborhood coffee spot, All Together Now, is doing a nightly dinner service where they create a meal every night and offer optional wine options.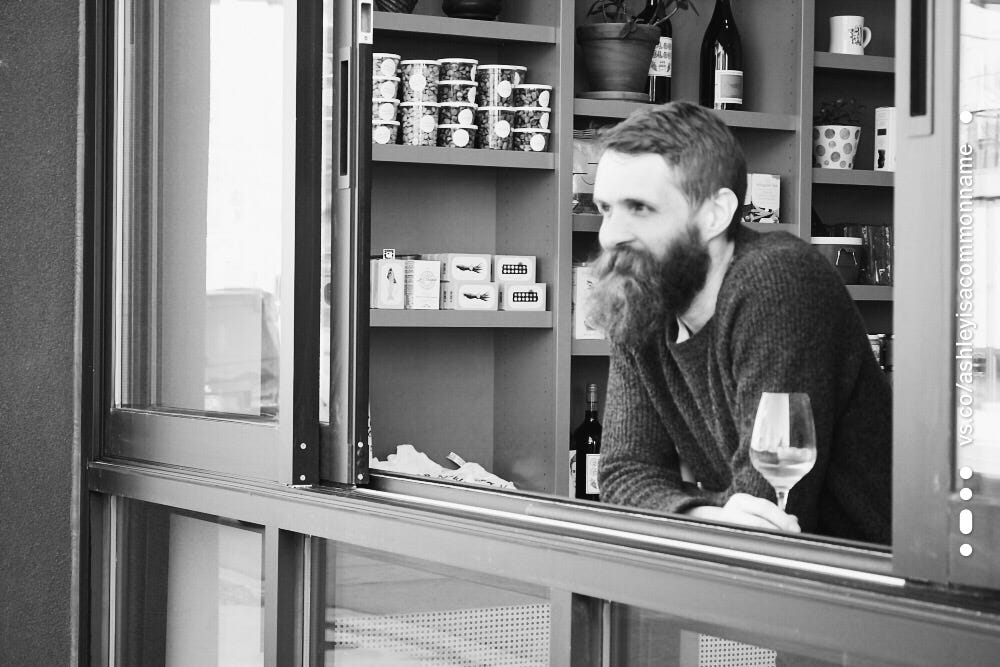 Jeremy, GM of All Together Now, waiting for customers in their "to-go" window.
My list is Chicago-centric since that's where I'm based, so I hope others will share what their local coffee shops and communities are doing. The folks at New Gotham Coffee made a list of places that have adjusted their hours and service models to accommodate.
Make it easier for folks to give you money: Do you sell merch? Do you have an online shop? Do you sell gift cards? There are a number of ways you can encourage folks to give your business money that doesn't involve physically stepping into your cafe. I'm flabbergasted by the number of businesses that, when they've posted on their social media about needing support, haven't created another avenue for customers to support them that doesn't involve continuing to patron their space.
Most POS systems have a gift card function that you could operate digitally (meaning put a link on your Instagram or on your website—folks shouldn't have to come in purchase them). If you have some creative folks on your team, maybe mock up a t-shirt or piece of merch to sell—you don't physically have to have the item yet to take pre-orders.
Become friends with fellow business owners: As cities and states shut down restaurants and other businesses, it's more important than ever to exercise your voice. If you own a business or manage a shop, you likely know some of the other owners and managers in your city. Come together to make a collective statement and put pressure on your city or state's government to protect workers.
I'll mention Middle Brow again: on their IG, they joined together with a number of business owners in Chicago to demand protections for small business owners and workers, including rent abatement, lifting payroll taxes, and easily accessible and widespread unemployment funds.
Now, more than ever, band together with your co-workers: In the last few hours, I've heard from a number of service workers who've said that they don't know what their leaders are doing. Besides a few "precautions" like washing hands and sanitizing things, there are some businesses that haven't thought about creative solutions. Some of that work is difficult, but you have to be creative when the livelihood of baristas are on the line.
If your employer hasn't addressed what the future could look like if the pandemic gets bad, it might be time to ask your fellow co-workers what they think.
Create a group text, start a Google Hangout, and just see what's on their minds. If you have concerns about the future of your job, it's likely that others have had the same thoughts.
You don't need to be a huge staff of folks to get the attention of both your employers and your community. Slack laid off its baristas after shutting down its headquarters to curb the spread of coronavirus—so five baristas came together and demanded three months of pay, continued access to healthcare, and a chance to return for full-time work. They wrote an open letter to the CEO of Slack and got buy-in from Slack employees, who started a GoFundMe to raise money for the baristas to offset the burden of lost wages.
With that being said…
DOCUMENT EVERYTHING: This is forever advice. This is advice for every situation, no matter how big or small. If your boss says to you that they don't think this is a big deal, document it. Save texts, send emails, ask them to clarify, in writing, what their policies are.
There's a chance that ordinances will be passed, funds will be created, and documentation will be critical in determining culpability. If you get sick at work and your boss was blazé about social distancing, you might be able to show that you were put in an unsafe environment. I'm not trying to assume that bosses and leaders are sucking hard (a lot of people are doing amazing things to protect their staff) BUT, like social distancing, this is an example of being overly cautious. You'll still do it, and ideally, your overzealous cautiousness will just be that.
More than ever, communication is necessary. Ask for help if you need it—the folks at Pacific Foods will donate plant-based milk to folks struggling through social distancing measures and shutdowns. Ask for more from your customers, and tell them what you need, and brainstorm ways to provide for your community that are creative and safe. This won't solve everything, but we need to be in tune with one another.
As far apart as you should be from others, now is the time to come together.
Hold up! You made it to the bottom of this article! Thank you so much for reading! If you could do any or all of the following things, that'd be incredibly helpful!
Click the 'heart' at the bottom to say you liked this article!

Consider checking out my Patreon!

Share this with a friend, on your social media, anywhere! Here's a button for you to do so!